Brake Service in Front Royal, VA

Brake Maintenance & Repairs at Marlow Motor Company
in Front Royal, VA
Bring Your Car to Marlow Motor Company for Brake Repair
Keep your brakes in the best possible condition for your daily drive by scheduling regular brake service at Marlow Motor Company. Brakes need an inspection every 10 thousand miles, and brake fluid needs to be switched out every 20 thousand miles for the best braking performance. Our team is prepared with the tools and right parts to give you to confidence to commute around Front Royal, VA.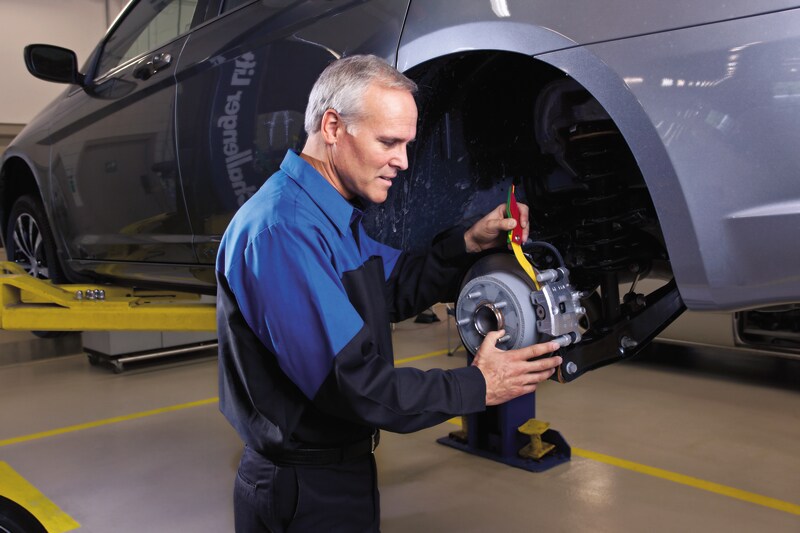 Brake Pads and Rotors Done Easy
We want to make your brake service as convenient as possible when you visit Marlow Motor Company in Front Royal, VA. From the moment you step inside our service department, we guarantee that you will like the experience more than the competition.
Routine Maintenance in Under One Hour
We perform brake flush services in under an hour when you schedule your service in advance.
Full Inspections
Being aware of your vehicle's state is important for staying safe and maintaining vehicle value. When you schedule for service at Marlow Motor Company, we perform a full inspection of your car to provide you with a complete report of your car's condition. After you know which repairs/maintenance your car needs, it's on you to approve the work and let our professionals handle your car with care.
Recognizing Brake Problems
Aside from inspecting brake pad material with a flashlight, here are some other signs that you might need brake service:
Vibration when pressing on the brakes: Do your brakes vibrate violently? It's time for service. When the rear brakes need service, you might feel a vibration in your seat, and when the front brakes need service, you'll feel it in the steering wheel.
Noises when braking: It's not uncommon for perfectly good ceramic brakes to squeal a bit when they're cold, but it's time for service if you experience repeated noise when braking.
Schedule Service Online
Our experienced technicians know how to properly maintain and inspect your brakes. Schedule your next brake service with the team in Front Royal, VA, and brake with confidence as you continue your journey.
Make an Inquiry