VA State Safety Inspections in Front Royal

State Safety Inspection Station in Front Royal, VA
Complete Your Annual VA State Safety Inspection at Marlow Motor Company in Front Royal, VA
At Marlow Motor Company, we are proud to extend you the opportunity to complete your annual safety inspection at our dealership. Ensuring your safety and satisfaction has always been one of our core focuses. As a VA state safety inspection station in Front Royal, VA, you can count on our skilled mechanics to follow the mandated procedures to ensure you are back on the road quickly, and with little fuss. Keeping things convenient for our Shenandoah Valley customers is a priority at our service center, so we can often accommodate state inspection needs with no appointment necessary. Better yet, our inspection station offers convenient hours, open late on weeknights with Saturday service hours available as well.
What to Expect When Bringing Your Vehicle For a State Inspection
The VA state inspection entails a number of quality checks to help ensure all VA registered vehicles are mechanically safe to operate throughout the highways of the Commonwealth. When bringing your car in for its annual state inspection, our Front Royal, VA mechanics will go through a long safety checklist that includes the following: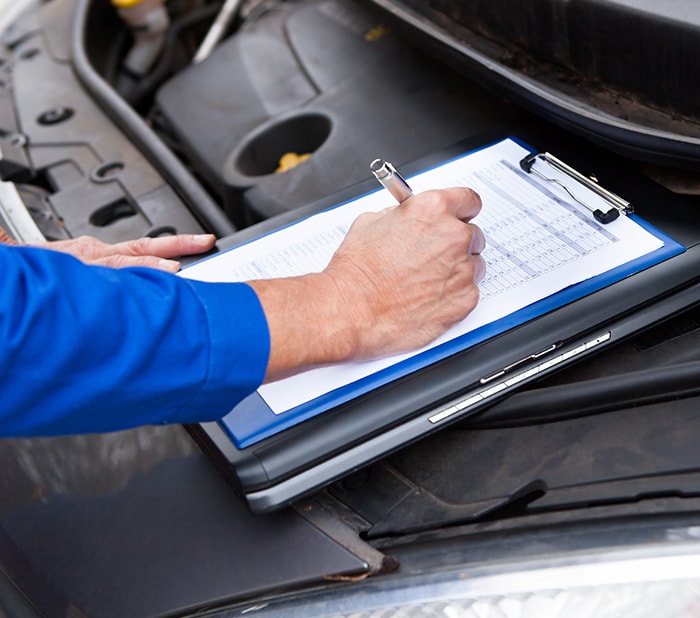 Remove Old Inspection Sticker
Drive into an Inspection Lane
Inspect Brakes
Inspect Parking Brake
Inspect Headlights
Inspect Other Lights
Inspect Signal Device
Inspect Steering and Suspension
Inspect Tires, Wheels, and Rims
Inspect Mirrors
Inspect Horn
Inspect Windshield and Other Glass
Inspect Windshield Wiper/Defroster
Inspect Exhaust System
Inspect Rear License Plate
Inspect Hood and Area Under the Hood
Inspect Air Pollution Control System of 1973 and Subsequent Models
Inspect Driver's Seat
Inspect Seat Belts
Inspect Air Bag and Air Bag Readiness Light
Inspect Doors at the Right and Left Sides
Inspect Fuel System
Inspect Floor Pan
Issue Sticker
Other Helpful Info About State Safety Inspections in Front Royal, VA
Question: What should I bring to get my car inspected?
Answer: Beyond your license and required documentation, as of 2010, you are required to pay for your vehicle's safety inspection. The cost to inspect a motorcycle or autocycle is $12. The cost to inspect a tractor truck, a truck with a gross weight rating of 26,000-pounds or more, or a vehicle used to transport 15 or more passengers is $51. The cost to inspect any other vehicle, including trailers and motor homes is $20.
Question: How often do you have to get your car inspected in VA?
Answer: Regardless of if you purchased a new or used automobile, vehicles must undergo the VA state safety inspection at least once in a 12-month period.
Question: Is there a grace period for expired inspection stickers in VA?
Answer: According to § 46.2-1157, no law-enforcement officer shall stop a motor vehicle due to an expired vehicle inspection sticker until the first day of the fourth month after the original expiration.
Question: Will my car pass inspection if the check engine light is on?
Answer: Maybe. Your car can still pass the inspection if the check engine light is on, contingent upon the cause of the light. The technicians at the safety inspection station will attempt to diagnose the cause of the check engine light. But that alone does not mean a failure.
Make an Inquiry